Chasing Sunsets, July 2013
Recently, I have found myself chasing sunsets around and in the area where I am fortunate to live, El Dorado Hills, in the California's Sierra Nevada foothills. Having lived in this area for the past ten years, I have developed some local knowledge as to where the best locations could be for a sunset on any given night, some a ten minute drive, stretching all the way up to South Lake Tahoe's beautiful Emerald Bay, a ninety minute drive each way. I love sunsets because they can be so colorful, with the setting sun's ability to brightly light up any clouds in the sky with colors that are simply magical to witness and photograph. The most colorful moments are the few minutes before the precise sunset time, and the few minutes after the sun has gone down below the horizon. As a photographer, Mother Nature typically gives you less than ten minutes to capture these colors at their brightest and most vivid, which requires you to be in place and ready to shoot. This includes predetermining the best composition, depth of field, focus, metering/exposure, ISO, etc., and be fully aware of the changing light conditions and respond appropriately. It is exciting sometimes simply trying to keep up, especially when you are also in awe of what Mother Nature is providing for that particular evening's 'show' right before your very own eyes! The excitement is in the thrill to be creative now and in the moment, with the need to respond and capture a scene that does not last long and you most likely will never see again!
The following three images were all captured in this month of July, 2013, generally not know as a great month for clouds and beautiful sunsets in the local area, but ones that I am happy to have been there to witness, enjoy and capture.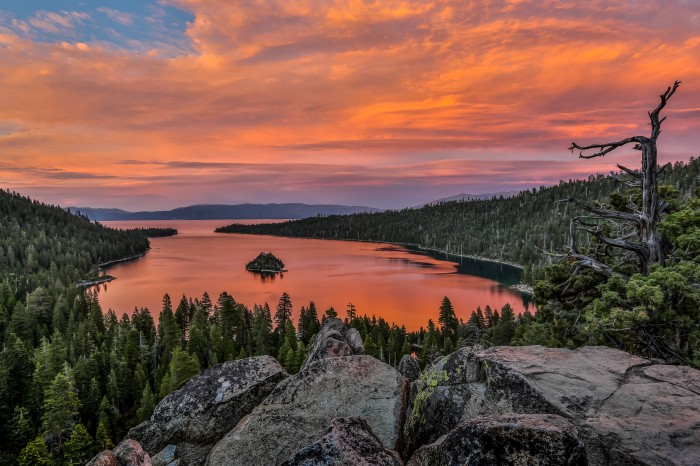 'Lake on Fire", Emerald Bay, South Lake Tahoe, California, 8:31 pm, July 10, 2013, Canon 5D Mk III; Canon EF16-35mm f/2.8L lens @ 18mm; 0.3 sec @ f/11; ISO 100
This image began with me noticing the gathering cloud patterns in the afternoon near my home. A short debate in my mind as to what would be the best location to go to for the evening's sunset was ended by an on the spur of the moment decision to drive up to Emerald Bay, in South Lake Tahoe. I had been to this particular location numerous times previously, with varying degrees of success with a sunset, and just had a hunch that 'tonight could be good'. I have learned not to build up my expectations on 'what could be' on any given occasion and instead accept and respond to 'what you are given'.
Sunset was officially at 8:30 pm and I arrived at 7:45 pm only to notice a gathering of about twelve people right at my favorite and most effective spot for a sunset shoot at Emerald Bay. I looked for an alternate spot, none of which I liked, and waited patiently for what turned out to be a wedding ceremony to conclude and the all the participants to depart. I quickly got into position about 24 inches above the ground, with beautiful boulders forming an effective and interesting foreground and simply waited for the magical light show to begin.
The image above was captured one minute after the official sunset time, with the best light and color being available for no more than five minutes. The sight of the 'lake being on fire' with an incredible red/orange glow reflected on the water, made me utter OMG several times in sheer delight. I left feeling exhilarated to have made the right decision to make the ninety minute drive up to the Sierras and be rewarded beyond my wildest expectations with the best sunset I had ever seen at Emerald Bay!
'Country Roads'. El Dorado Hills, California, 8:23 pm, July 24, 2013, Canon 5D Mk III; Canon EF16-35mm f/2.8L lens @ 16mm; 0.5 sec @ f/11; ISO 100
This image was captured at a location about a ten minute drive from my home. I chose this location by driving around and looking at the position of the clouds in the sky and contemplating and predicting what the light may produce, and where, with the setting sun. I also always looking for an interesting foreground and the road, that leads a viewer's eye into the shot, with the gate and fence materials turned out to be well suited for the patterns generated in the sky by the clouds.
'Life's Twists and Turns', American River, Salmon Falls Road, California, 8:21 pm, July 25, 2013, Canon 5D Mk III; Canon EF16-35mm L lens @ 16mm; 0.5 sec @ f/11; ISO 100
The final image I have here was of the sunset that occurred the day after the image shown above. Again, the location was determined by the position of the clouds in the sky and my prediction of the reflected light and colors of the setting sun. This night, I was simply winging it as I had never been to this particular spot for a sunset shoot, and had not been here in about five years. Arriving a little later than ideal I had about five minutes to walk down a fairly steep trail, pick a spot, set up my tripod and camera and begin to trigger the shutter. What helped me make a quick decision was the reflection of the clouds I saw in a little cove of the river, as well as the layers of the bank on the left hand side. This time as well I set up close to the ground, chose a composition that I thought would work well and pulled the trigger sitting on my butt on damp ground! As it turned out, this was the first image I captured that night and the best!
I would like to end this blog post with a quote from a great man, who I admired greatly and was influenced by when I was a child growing up in Sri Lanka.
'When I admire the wonders of a sunset or the beauty of the moon, my soul expands in the worship of the creator'. ~ Mahatma Gandhi