Zion National Park, November 2012
After visiting Bryce National Park at the end of October, 2012, on the way back I had the good fortune of visiting the magnificent Zion National Park for a couple of days as well.
A prominent feature of the 229-square-mile (590 km2) park is Zion Canyon, which is 15 miles (24 km) long and up to half a mile (800 m) deep, cut through the reddish and tan-colored Navajo Sandstone by the North Fork of the Virgin River. Located at the junction of the Colorado Plateau, Great Basin, and Mojave Desert regions, the park's unique geography and variety of life zones allow for unusual plant and animal diversity. Zion National Park includes mountains, canyons, buttes, mesas, monoliths, rivers, slot canyons, and natural arches.
Human habitation of the area started about 8,000 years ago with small family groups of Native Americans. Mormons came into the area in 1858 and settled there in the early 1860s. In 1909, U.S. President William Howard Taft named the area a National Monument to protect the canyon, under the name of Mukuntuweap National Monument. In 1918, however, the acting director of the newly created National Park Service changed the park's name to Zion. According to historian Hal Rothman, "The name change played to a prevalent bias of the time. Many believed that Spanish and Indian names would deter visitors who, if they could not pronounce the name of a place, might not bother to visit it. The new name, Zion, had greater appeal to an ethnocentric audience."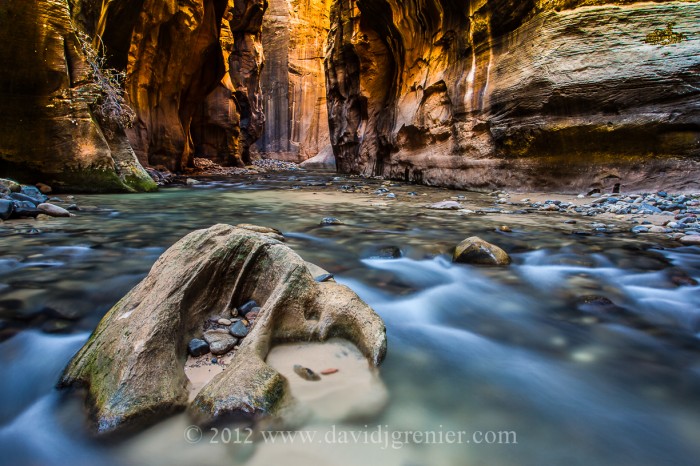 The Narrows in Zion National Park, is a section of canyon on the North Fork of the Virgin River, that is a longest slot canyon in the USA. The hike of The Narrows is one of the premier hikes on the Colorado Plateau. The term The Narrows refers to both the through-hike of The Narrows, and to The Narrows themselves, especially the 3.6 miles (5.8 km) long section of canyon between the end of the Riverside Walk Trail and Big Spring.
Hiking The Narrows was the highlight of this trip. We managed to complete the hike, through waters up to our knees at times, in just under 7 hours. It was a particularly arduous task for me as I had the physical handicap of having blisters on both my feet from hiking Bryce Canyon for a couple of days, and had fallen and badly scraped both my knees on a night photo shoot the day before. It was still a memorable experience and accomplishment, and resulted in the images above.
Enjoy!